Jane Austen — Quick Facts
The authoress Jane Austen is loved all over the world for her novels describing the society of pre-industrial England. This page offers a brief summary of her life.
Birth and Death Information
Date and place of birth

December 16th, 1775; The Rectory, Steventon, Hampshire, U.K.

Date and place of death

July 18th, 1817; 8 College Street, Winchester, Hampshire, U.K.

Cause of death

Debated, but may have been Addison's disease or Hodgkin's lymphoma.

Burial location

North aisle of Winchester Cathedral, Hampshire, U.K.
Family Members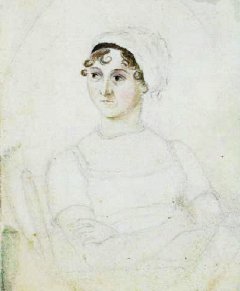 A portrait of Jane Austen
(114 mm × 80 mm, pencil and watercolour, circa 1810) by her sister Cassandra. It is currently housed in the
National Portrait Gallery
, London.
Father

George Austen (1731–1805).

Mother

Cassandra (1739–1827).

Brothers

James (1765–1819), George (1766–1838), Edward (1767–1852), Henry Thomas (1771–1850), Francis William (Frank) (1774–1865), Charles John (1779–1852).

Sister

Cassandra Elizabeth (1773–1845).
Love Life
Main love interest

Tom Lefroy (1776–1869); they met several times over four weeks spanning the Christmas and New Year of 1795–1796. The seriousness of their relationship has often been debated. Tom Lefroy married Mary Paul in 1799.

Marriage proposal

In December 1802, Jane Austen received a marriage proposal from Harris Bigg-Wither (1781–1833), whom she had known since she was 14 years old. Although she accepted his offer, she almost instantly realised that she had made a mistake. She therefore withdrew from the engagement only the next day. This was the only known offer of marriage that she ever received.
Main Residences
1775–1801: Steventon, Hampshire, U.K.

Steventon Rectory. The Rectory was demolished in 1820 but Steventon Church, where the Austens worshipped, still remains. If you visit the field where the house stood, you can see a metal pump (that replaced the wooden pump from Austen's time) and a lime tree that is thought to have been planted by Jane's eldest brother James. Note that Jane spent some time away from home during this time. In the Spring of 1783, according to her family tradition, she and Cassandra were sent to reside with tutor Mrs. Ann Crawley, who lived in Oxford but moved to Southampton in the Summer of that year. Around this time, Cassandra and Jane both caught typhus; Jane nearly died. Soon after, both girls returned to live at Steventon Rectory. Between the Spring of 1785 and December of 1786, Jane and Cassandra attended Reading Ladies' Boarding School in Berkshire.

1801–1806: Bath, Somerset, U.K.

Her family moved several times whilst in Bath. Their addresses were as follows: 4 Sydney Place, at the eastern end of Great Pulteney Street (until 1804); 3 Green Park Buildings East (1804–1805); 25 Gay Street (1805); and Trim Street (1806, house number unknown).

1806–1809: Southampton, Hampshire, U.K.

Jane, Cassandra, their widowed mother (Cassandra Leigh Austen), Francis Austen, and Mary Austen (maiden name Gibson) all moved to lodgings in Southampton (October 1806). They then all moved to 3 Castle Square (March 1807). This was described as a "commodious old-fashioned" house and was rented from the Marquess of Lansdowne. The house no longer exists because the whole Castle Square area has been redeveloped.

1809–1817: Chawton, Hampshire

Chawton Cottage. This is now open to the public as the Jane Austen's House Museum.

1817: Winchester, Hampshire, U.K.

8 College Street. Jane and Cassandra moved here in order for Jane to receive medical attention. Although the house is still standing, it is a private house that is not open to the public. A commemorative plaque above the front door reads "In this house Jane Austen lived her last days and died 18th July 1817".
Interests
Writing, reading, pianoforte, sewing, dancing, socialising, country walks, attending church.
Novels (all published anonymously)
Movies about Jane Austen
2009-01-09
---
---
Back to the articles list or the main page.
Tweet