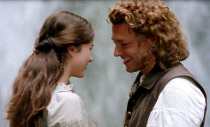 The latest additions...
...to the period-drama
timeline
:
2013 Movie
2013 Movie
2013 TV Movie
2011 Movie
1981 TV Mini-series
2013 TV Series
2013 TV Series
2012 TV Series
Have you seen these?
2009 TV Series
1998 TV Movie
1958 Movie
2001 TV Movie
2010 TV Series
Welcome!
Welcome to PeriodDramas.com, a website dedicated to movies and TV series in the period-drama (or costume-drama) genre.
Check out our most recent article: Lorna Doone. If you would like your article published on the site, please contact us.
Site contents
The historical timeline lists each period drama according to the year in which it begins. Click on any entry to learn more about its cast, filming locations, DVD availability, etc.
A ranking of the very best period dramas, as rated by visitors to our website.
Our collection of original articles covering various aspects of the period-drama genre.
Get help with identifying a period drama whose title you can't remember, or help us identify one of the current unknowns!
A list of our favourite websites related to the period/costume-drama genre.
Get the latest news about period-drama movies, actors, directors, etc. in this section.
We'd love to hear from you. You can email us, send us a quick message, or follow us on Twitter!
Top banner
The banner at the top of this page shows a picture of the centuries-old Haddon Hall, a popular filming location for many period dramas.
Search
You can search PeriodDramas.com for a particular movie, author, actor, location, etc. using the search box found at the top right of every page.
Tweet