Downton Abbey — Final Casting Press Release
The following is the final casting press release for Downton Abbey, ITV's new period drama that is due to be aired this autumn (2010). The text and image have been reproduced with permission from boutique agency Milk Publicity.
Dame Maggie Smith & Hugh Bonneville lead the cast of Julian Fellowes' major new drama series, Downton Abbey
DATE: Friday 5th March, 2010
"The sun is rising behind Downton Abbey, a great and splendid house in a great and splendid park. So secure does it appear, that it seems as if the way of life it represents will last for another thousand years. It won't."
ITV's new costume drama series, Downton Abbey, written and created by Oscar-winning writer Julian Fellowes and made by Carnival Films for ITV will star Maggie Smith as Violet, Dowager Countess of Grantham, Hugh Bonneville as Robert, Earl of Grantham and Elizabeth McGovern as Robert's wife, Cora, Countess of Grantham.
They will lead an all-star cast, which also includes: Penelope Wilton, Dan Stevens, Michelle Dockery, Jim Carter, Phyllis Logan, Lesley Nicol, Siobhan Finneran, Rob James-Collier, Joanne Froggatt and Rose Leslie.
Set in an Edwardian country house in 1912, Downton Abbey will portray the lives of the Crawley family and the servants who work for them.
"In 1912, England was teetering on the brink. Apparently placid, still rooted in the traditions of many centuries, it would be less than ten years before the First World War and the Jazz Age had ripped every certainty to shreds. This is the moment when we enter the world of Downton Abbey, the great house of a great family, where the Granthams and their daughters preside over a household in the charge of Carson, the butler, and Mrs Hughes, the housekeeper. All these people must, in their different ways, deal with the changes that are coming. The cast, led by Maggie Smith as the Dowager, Hugh Bonneville and Elizabeth McGovern as the Earl and Countess of Grantham, Dan Stevens and Penelope Wilton as the unwanted heir and his mother, and a staff led by Jim Carter as Carson, and Phyllis Logan as Mrs Hughes, will bring the halls and passages of Downton to life, with splendour, discipline and passion." — Julian Fellowes
Laura Mackie, Director of Drama, ITV said: "We're delighted with the stellar cast who have come together for Downton Abbey. It's testament to the quality of Julian's wonderful scripts and the calibre of the production team that some of the brightest and best of the UK's leading actors have come onboard."
Downton is the home of the Crawleys, who have been the Earls of Grantham since 1772. In the drawing rooms and library and beautiful bedrooms, with their tall windows looking across the park, lives the family, but below stairs are other residents, the servants, as fiercely possessive of their ranks as anyone above. Some of them are loyal to the family and are committed to Downton as a way of life, others are moving through, on the look out for new opportunities or love or just adventure. The difference being that they know so many of the secrets of the family, while the family knows so few of theirs.
Downton Abbey is a Carnival / Masterpiece co-production and executive produced by Carnival's Managing Director, Gareth Neame. Principal photography begins in March 2010 and it will transmit on ITV1 in autumn 2010. The series producer is Liz Trubridge (From Time to Time, A Short Stay in Switzerland), the producer is Nigel Marchant (Fanny Hill, The Philanthropist) and the directors are Brian Percival (Gracie, A Boy Called Dad), Ben Bolt (Doc Martin, Ashes to Ashes) and Brian Kelly (Lilies, Torchwood).
Director of Television, ITV, Peter Fincham and Director of Drama, Laura Mackie have ordered seven episodes of the drama with Julian Fellowes writing the majority of scripts and overseeing the series. The first episode will be a 90-minute film followed by 6 × 60" episodes.
Julian is best known for Gosford Park, which won a plethora of awards, not least an Oscar for Best Original Screenplay in 2001. His most recent film, The Young Victoria, also received critical acclaim. In addition to his work as a writer, Julian is an actor, director and producer.
| Cast | Character |
| --- | --- |
| Dame Maggie Smith | Violet, Dowager Countess of Grantham |
| Hugh Bonneville | Robert, Earl of Grantham |
| Elizabeth McGovern | Cora, Countess of Grantham |
| Penelope Wilton | Mrs Reginald Crawley |
| Dan Stevens | Matthew Crawley, third cousin and heir |
| Michelle Dockery | Lady Mary Crawley, eldest daughter |
| Laura Carmichael | Lady Edith Crawley, middle daughter |
| Jessica Brown Findlay | Lady Sybil Crawley, youngest daughter |
| Jim Carter | Carson, the Butler |
| Phyllis Logan | Mrs Hughes, Housekeeper |
| Lesley Nicol | Mrs Patmore, Cook |
| Brendan Coyle | Bates, Lord Grantham's valet |
| Siobhan Finneran | Sarah O'Brien, Lady's Maid |
| Rob James-Collier | Thomas, first footman |
| Thomas Howes | William, second footman |
| Joanne Froggatt | Anna, Head Housemaid |
| Rose Leslie | Gwen, Housemaid |
| Sophie McShera | Daisy, Kitchen maid |
---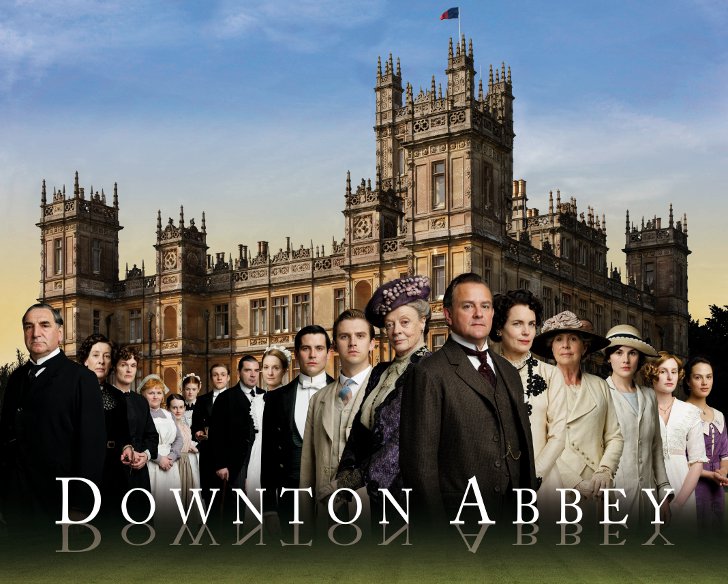 ---
---
Back to the articles list or the main page.
Tweet