Cheerful Weather for the Wedding
By Universal Studios, guest author
BASED ON THE ACCLAIMED NOVELLA BY JULIA STRACHEY
CHEERFUL WEATHER FOR THE WEDDING
IN SELECT CINEMAS FROM 9 JANUARY 2013 AND ON DVD, BLU-RAY™ DIGITAL DOWNLOAD AND VIDEO ON DEMAND FROM 14 JANUARY 2013
"Biting humour and intense romance…" – Screen International "Spot-on production values and a fine cast" – The Hollywood Reporter "Quick-witted… entertaining… beautiful cinematography" – The Movie Banter
On her wedding day, with just hours to go until the ceremony, a young woman's future is suddenly thrown into chaos by the appearance of a former lover in the period drama of the autumn Cheerful Weather for the Wedding; released in select cinemas on 9 January 2013 and on DVD, Blu-ray, digital download and video on demand by Universal Pictures UK on 14 January 2013.
Charming and funny, but also unforgiving and unsentimental, the film received rave reviews on its world premiere this year at the Tribecca Film Festival. Filmed on location in the Wiltshire countryside, with stunning vistas and glorious period houses, fans of Downton Abbey and period dramas will enjoy and identify with the themes of love triangles, disruptive family gatherings and a stunning countryside wedding.
Felicity Jones (Chalet Girl, Like Crazy), Luke Treadaway (Attack the Block, Clash of the Titans), Elizabeth McGovern (Downton Abbey, The Wings of the Dove) and scene stealing comedic moments from Mackenzie Crook (The Office, Pirates of the Caribbean) and Fenella Woolgar (Bright Young Things), lead a start-studded cast with English period drama credentials including Barbara Flynn (Cranford, Miss Potter), Ellie Kendrick (Diary of Anne Frank, Game of Thrones), Julian Wadham (Middlemarch, The Iron Lady) and John Standing (Mrs Dalloway, A Dance to the Music of Time) in the feature film debut for director Donald Rice, son of Sir Tim, with a soundtrack composed by Michael Price, the man behind the sounds of TV's Sherlock, Tinker Tailor, Soldier Spy and music editor on Bridget Jones: Edge of Reason.
When Julia Strachey's novella, Cheerful Weather for the Wedding, was published in 1932, drawing heavily on her own experiences, Virginia Woolf described it as "a clever, indeed rather remarkable acidulated story… I think it astonishingly good – complete and sharp and individual".
Synopsis and Bonus Features
Cheerful Weather for the Wedding (2012)
On a crisp December morning in 1932, bride-to-be Dolly (Felicity Jones) hides in her bedroom as her many family members arrive for the wedding with all the cheerfulness, chaos and grievances that go with such occasions. But trouble soon appears with the arrival of Joseph (Luke Treadaway), Dolly's lover from the previous summer, who, to her mother's (Elizabeth McGovern) exasperation, throws Dolly's feelings into turmoil.
With lavish costumes and beautiful English countryside, CHEERFUL WEATHER FOR THE WEDDING is a joy from start to finish in the grand tradition of English period comedy-dramas, filled with light-hearted humour and steamy romance.
Bonus Features: • Featurette: Behind the Scenes Theatrical trailer • Audio commentary with writer and director Donald Rice, writer Mary Henely Magill and editor Stephen Haren TECHNICAL INFORMATION Price: DVD: £12.99 RRP / BD: £17.99 RRP Street Date: 14/01/2013 Runtime: 95 minutes Certificate: 12 Copyright: ©2011 Cheerful Weather Limited. All Rights Reserved.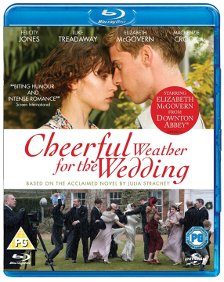 About Universal Pictures (UK) Universal Pictures (UK) is a division of Universal Pictures International Entertainment, which is part of NBCUniversal - one of the world's leading media and entertainment companies in the development, production, and marketing of entertainment, news, and information to a global audience.
Formed in May 2004 through the combining of NBC and Vivendi Universal Entertainment, NBCUniversal owns and operates a valuable portfolio of news and entertainment networks, a premier motion picture company, significant television production operations, a leading television stations group, and world-renowned theme parks. NBCUniversal is 51% owned by Comcast Corporation and 49% owned by General Electric.
© 2012 Universal Studios. All Rights Reserved. PUBLICITY CONTACTS Pete Connell / 020 7292 7320 / pete.connell@premiercomms.com Ellie Keene / 0207 292 7397 / ellie.keene@premiercomms.com For online queries please contact: Juliana Fenton / 0207 292 8351 / juliana.fento@premiercomms.com www.premiercomms.com www.facebook.com/cheerfulweather
---
---
Back to the articles list or the main page.
Tweet