An Introduction to the British Regency Period
Many period dramas are set in what is now known as the British Regency period. The word "Regency" is used to describe this period because it was during this time that the Prince of Wales George Augustus Frederick (who later became King George IV) served as the Prince Regent. He took on this role due to his father King George III being unfit to rule because of what is now suspected to have been porphyria. Although the Regency period in Britain is officially set between 1811 and 1820 (i.e., the years George Augustus Frederick served as the Prince Regent), it is often extended to include the years between 1795 and 1837. This is done for convenience because of the very distinctive architecture, art, literature, politics, and fashions associated with this extended time period.
Although films set in this period normally portray the lavish lifestyles of the aristocracy and landed gentry, it is important to remember that the majority of the population (which totalled approximately 10 million in England and Wales) were the labouring classes, who lived in poverty, working to survive by serving the rich. The weathly often owned large areas of land that they leased to farmers. By the end of the 1700s, almost half of the cultivated land was owned by just 5000 families. It is also important to note that the Regency period was a time affected by war; the British were fighting France in what is known as the Napoleonic Wars. Although the sons of many noble families served their country dutifully, wealthy draftees could escape service by paying a fine.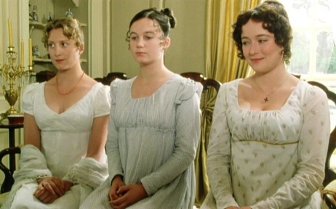 Examples of Empire line dresses worn during the Regency period. This screenshot from the 1995 BBC version of
Pride and Prejudice
shows (from left to right) Susannah Harker as Jane Bennet, Polly Maberly as Kitty Bennet, and Jennifer Ehle as Elizabeth Bennet.
Period dramas set during the British Regency era can often be quickly identified by observing the costumes. Women wore dresses with Empire waistlines (high waistlines that were gathered just below the bust to create an "Empire silhouette"); this style of dress allowed women to discard the previously popular (but no doubt restrictive) undergarments such as traditional waist-narrowing corsets, panniers, and bustles. Regency dresses were often made of pale-coloured, lightweight fabrics, such as muslin, lawn, batiste, and gauze. Fashionable men would have worn trousers or pantaloons instead of the previously fashionable knee-breeches and stockings. Other trends to look out for are boots (these replaced buckled shoes), white linen shirts, elegantly knotted cravats/neckcloths, and short haircuts (only the older, more conservative men continued to wear powdered wigs). Prince Regent's friend Beau Brummell (né George Bryan Brummell) was a men's fashion icon during the Regency period. He is credited with introducing and popularising the modern man's suit and tie. It has been reported that he took five hours to dress, and suggested that boots be polished with champagne!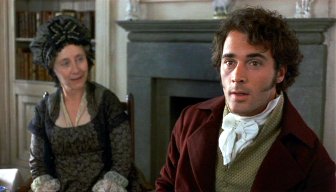 Example of a typical knotted cravat worn during the Regency period. This screenshot of Gemma Jones and Greg Wise is taken from the 1995 Ang Lee / Emma Thompson version of
Sense and Sensibility
.
Popular period dramas (many based on Jane Austen novels) set during the British Regency period include the following:
2009-01-19
---
---
Back to the articles list or the main page.
Tweet