The Duchess
By M. Gowlett, guest author
I have just been to see the Saul Dibb 2008 film The Duchess, which has only recently been released here. As I admire Ralph Fiennes as an actor and like Keira Knightley, especially in period dramas, I was really looking forward to it. I went to the cinema with my husband who, before the film started, felt just a little uncomfortable at the shortage of men in the audience! As soon as the film got underway I also began to feel distinctly ill at ease for two reasons: firstly because of being so immediately confronted by the wedding night bedroom scene reminding us what a terribly rough deal women of the period had, and secondly by the undercurrent of insinuations linking Georgiana Cavendish Spencer's relationship to that of the late Diana, Princess of Wales.
However, by the end I had decided it was really a pretty good film. It certainly gave us a brilliant insight into the lives of the aristocracy in the late 18th century, and to some extent of the poor and underprivileged: servants, supporters of political reform, the workers and especially women fighting for some rights. Life was quite a struggle. Despite the problems we see around us at present I feel pretty lucky!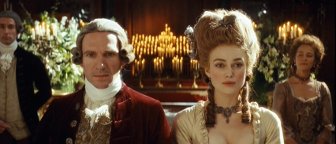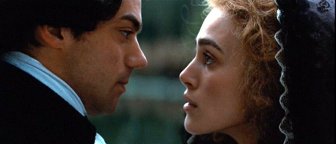 Top:
The marriage ceremony of the Duke of Devonshire (Ralph Fiennes) and Georgiana (Keira Knightley).
Bottom:
An intimate moment between Charles Grey (Dominic Cooper) and the Duchess of Devonshire.
On checking things out after watching the film, I see that the plot of the film really is true to the life of Georgiana, the Duchess of Devonshire, right down to her love of clothes, details of the children's names and the third person in the marriage, etc. as chronicled, no doubt accurately, in Amanda Foreman's book (supported by her Ph.D. thesis) on which the film is based. This has led me to conclude that the ancestral links between the Spencers, and between Georgiana's illegitimate love-child Eliza and Sarah Ferguson, the Duchess of York are facts, and that similarities between the past and present family sagas are quite coincidental. This reassured me somewhat as I am not comfortable watching a film, or reading a book, in which someone I respect in many ways is seemingly slighted by insinuation.
I thought the acting in all the roles was great, as too were the costumes, sets, etc. Charlotte Rampling, who I have seen in several fascinating films, such as Sous le Sable (2000) and Swimming Pool (2003) made the perfect austere mother — really scary! — much like her rendering of Miss Havisham in Great Expectations (1999). Haley Atwell as Bess Foster, made an endearing, sympathetic friend, despite the irregularity, and, as for Dominic Cooper's Charles Grey, I understand why Georgiana fell for him!
I am interested to learn that Charles Grey's marriage to Mary Elizabeth Ponsonby produced 16 children and that they lived to the ripe old age of 81 and 85 respectively, so they couldn't have had too bad a life! Maybe my interest in the lives of these two stems from my love of Earl Grey and Lady Grey tea. With all the do's and don't's of dietary advice, I shall keep drinking my tea — it didn't do them any harm!

Paintings of the real characters.
From left to right: Georgiana Cavendish, Duchess of Devonshire (painted by Sir Joshua Reynolds in approximately 1775), William George Spencer Cavendish, 6
th
Duke of Devonshire (painted by Sir Thomas Lawrence in 1811), Charles Grey, 2
nd
Earl Grey, and Lady Elizabeth Foster (formerly Elizabeth Christiana Hervey and later Elizabeth Cavendish, Duchess of Devonshire)(painted by Sir Joshua Reynolds in 1787).
2009-04-09
---
---
Back to the articles list or the main page.
Tweet