Making the Short Period Drama "Mesmerize Me"
By Kate Hackett, Director of MESMERIZE ME, guest author
This is the story of how I made a glossy 1880s drama on a student budget, and survived to tell the tale.
I am a professional filmmaker and feature film editor, known mostly as a director of multi-media for live concerts, most recently for the solo violin concert and Philip Glass premiere Portals. At the time of making my 23 minute short dramatic film MESMERIZE ME, I was a thesis student in the graduate Film Production/Directing program at UCLA.
MESMERIZE ME has won multiple awards, made a tour of the festival circuit, and has recently been released to be viewed for free on Vimeo. It tells the story of a troubled young woman, Estella, who believes that she can see and speak with her fiancée, Stephen, who died several years before. When a traveling hypnotist is hired to cure Estella, a rivalry develops between these two eccentrics that soon develops into a romantic attachment. The film was inspired in part by an old family diary (I am a ninth generation Californian), in which a nineteenth century ancestor spoke skeptically about going to see a lecture on curing mental illness through hypnosis.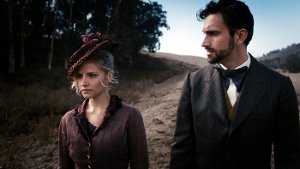 Daniel (Cameron Cash) and Estella (Natalie Smyka).
After my thesis proposal was accepted by my advisory committee, I realized the potential insanity of the project that was about to consume my life for the next two years. Would it be feasible to produce a lush, romantic period piece with my limited student resources?
I was determined not to pay for my thesis out of personal funds, so that made the challenges even steeper. First, I applied to all the grants that I knew of and approached companies for in-kind donations. This garnered me the generous support of FujiFilm, Deluxe Laboratories, EFilm, and Panavision, allowing me to shoot on 35mm and take the film through the post-production process almost entirely for free.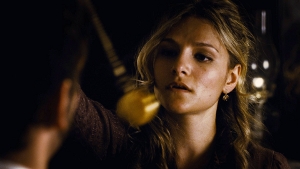 Estella with hypnotizing watch.
Next came a crucial part of the challenge, wardrobe and production design. I knew that the success or failure of my short rode on the historical accuracy and professionalism of these elements. I also knew that I didn't have the funds to build and dress sets in lavish Hollywood fashion. My creative work-around for this was to shoot entirely in historic Old California locations. The Leonis Adobe Museum and the Camarillo Ranch House, two restored historic homes, served as interiors.
For exteriors, we used ranch land in California's Central Coast, as well as Mission San Miguel, where the Franciscan Brothers allowed us to shoot in their quarters. One of the ironies of the shoot was that all our locations were located along the 101 Freeway, which was originally "El Camino Real", the King's Road during Spanish rule. As a result, these wonderful locations had very traffic-heavy production sound, and my supervising sound editor (Emmy nominee David Raines) spent a lot of time and care making the film sound like the 1880s.
MESMERIZE ME is more of a romance than a Western, but the fact that it takes place in the Old West meant that some of the production design elements were easy to pull together in Los Angeles, a town with a long history of producing these types of films. Our horses and carriages were provided by Hollywood livestock coordinators who cut their rate in exchange for using our film as an opportunity to train inexperienced young horses how to pull a stagecoach. A historic wardrobe house helped us with the costumes. Our background casting director pulled from a group of extras who specialize in Westerns and even own some of their own costume pieces.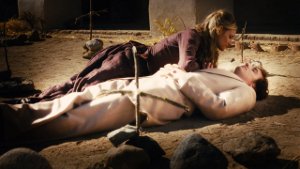 Estella and Stephen (Ned Hosford).
After all this hard work, the final (and equally crucial) step was casting. It's difficult to find American actors who can play these types of period romantic roles. I was very concerned with finding two actors who could seem natural and contemporary, but at the same time bring the zeitgeist of 1880s. I worked with a casting director, and was very lucky to find the two talented rising young actors Natalie Smyka and Cameron Cash, both of whom stood out in auditions as the perfect fit for their respective parts. Natalie created an Estella who was curious, impetuous, and ahead of her time, and Cameron played the typical showman of the period to a T, investing his character with subtlety and depth.
The result of all these adventures is a film with performances and a visual aesthetic that I am very proud of. Please watch it below or on Vimeo.com and judge for yourself!
Watch MESMERIZE ME
Mesmerize Me from Kate Hackett on Vimeo.
24 minute narrative short film. 35mm.
Synopsis: 1880s California. A traveling hypnotist is hired to cure a troubled young woman. Will their rivalry blossom into romance, or will Estella continue to fixate on a love long since dead?
WINNER:
James Bridges Award
Carole Fielding Award
FujiFilm Graduate Thesis Award
Deluxe Thesis Award
Opening Night Selection, Best Cinematography & Best Visual Design, UCLA Festival of New Works
Written and Directed by Kate Hackett
Starring Natalie Smyka, Cameron Cash
Cinematography by Cat Deakins
Original Score by Nora Kroll-Rosenbaum
Further Information
For further details, visit Kate's website: www.kate-hackett.com
her IMDb page: www.imdb.com/name/nm3099067/
or the IMDb page for MESMERIZE ME: www.imdb.com/title/tt1357047/
2012-02-26
---
---
Back to the articles list or the main page.
Tweet