Jane Austen Trivia
Listed below is some interesting Jane Austen trivia. Please feel free to contact us if you would like to contribute any more! For a more factual page on Jane, please see Jane Austen — Quick Facts.
Miscellaneous
Jane was fascinated by a murder that had previously taken place in her home Chawton Cottage, which had been an inn.
Jane described her own books as her children.
Childhood
Jane's childhood nickname was Jenny.
Jane spoke French fluently. As a child she also learnt Latin.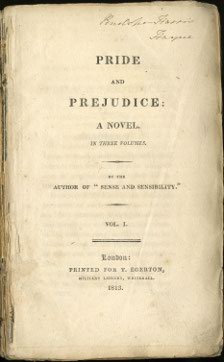 The title page of the first edition of
Pride and Prejudice
. Note that Jane Austen's name is not given.
Family
Jane received a writing box from her father for her 19th birthday.
Although Jane wished to remain anonymous as an authoress, her brother Henry was so proud of her that when he heard others speaking about Pride and Prejudice, he told them that it was written by his sister.
Jane's brothers Frank (Francis William) and Charles John were both admirals in the Royal Navy.
Jane's nephew James Edward Austen-Leigh wrote and published A Memoir of Jane Austen in 1869.
Novels
All of Jane's novels, apart from Pride and Prejudice, were published on commission.
Jane's novels have been continuously in print since 1833.
Money
The second edition of Mansfield Park sold so badly that Jane suffered a loss of over £180.
Throughout her life, Jane earned £631 from her books. Even in those days, this was not a fortune. For comparison, Jane annually spent around £20 on clothing.
The total amount that the Austen family (including Jane) earned from Jane's books was £1625.
Death
Jane passed away in the arms of her sister Cassandra.
2009-02-22
---
---
Back to the articles list or the main page.
Tweet